Key Contacts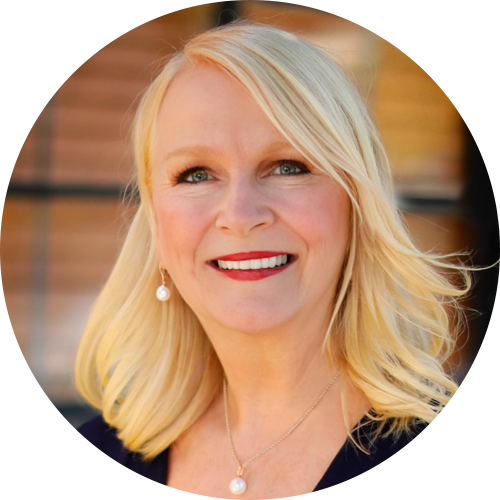 Dr. Sharon Weir
Principal / Executive Director
---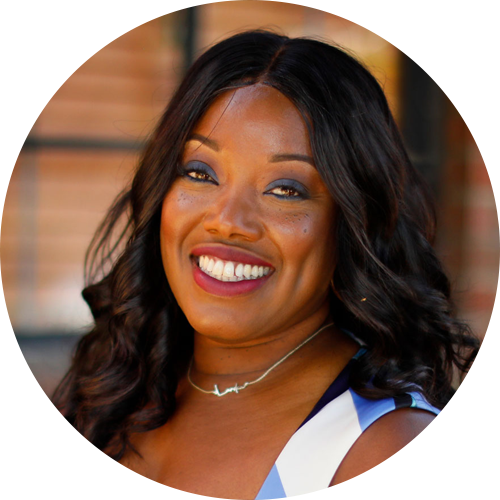 Larika Clark
Principal | DEI
---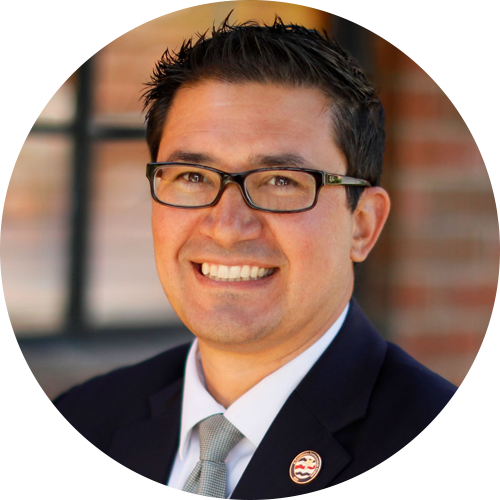 Mark Herrera
Vice Principal
---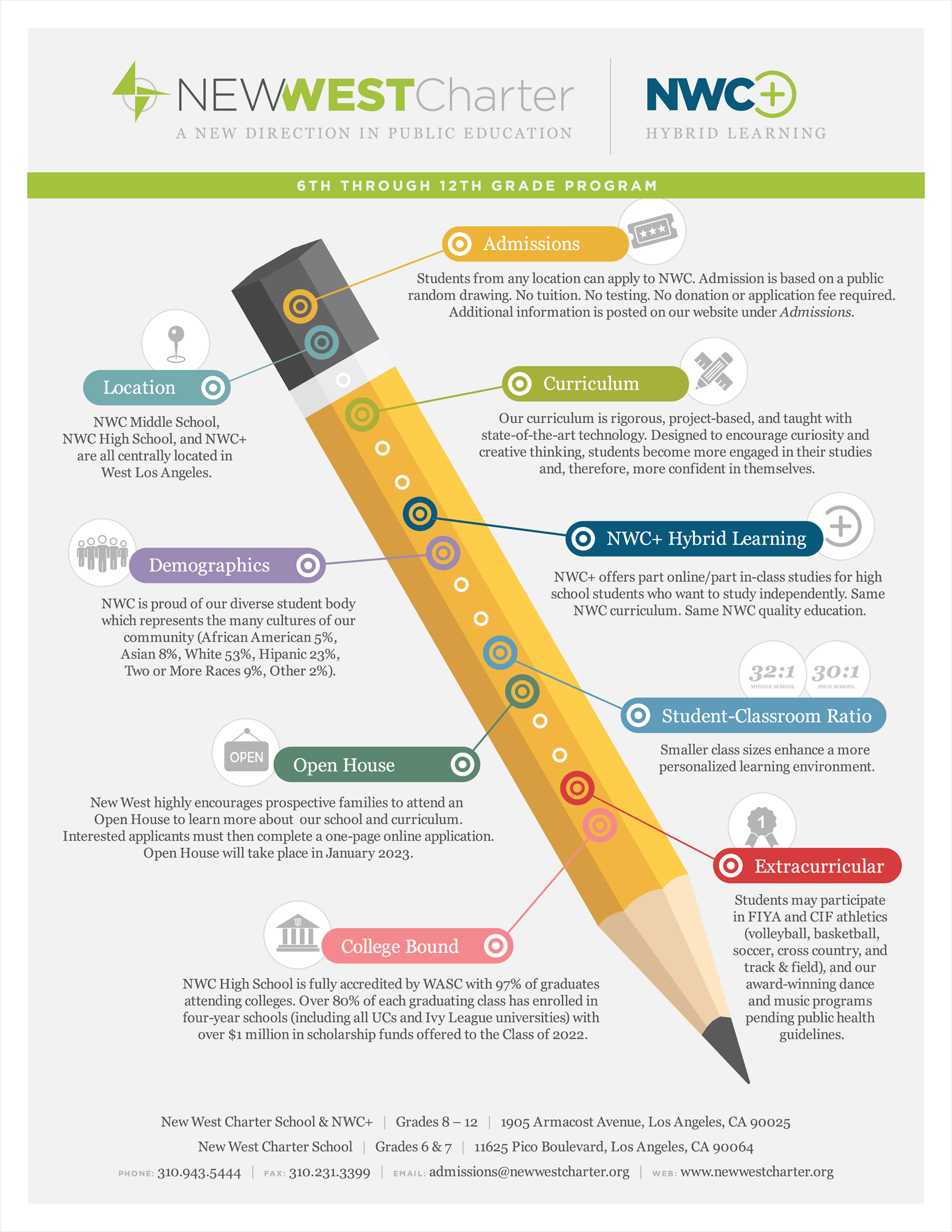 ---
Description / History
Parent-founded New West Charter School (NWC) is a free, independent, high-performing, public charter school, chartered by the State Board of Education and supervised by the Charter Schools Division of the California Department of Education. It is currently serving grades 6 – 12, including our hybrid high school (part online/part in-class curriculum), NWC+, currently serving grades 9 – 12.
The development of NWC began in 2000 with an organized community effort, thanks to the hard work and dedication of many parents to start a new school that would provide Los Angeles' ethnically, culturally and socio-economically diverse families with a choice in public education. The school first opened its doors September 2003 at its Pico Boulevard campus in West Los Angeles, under its charter granted by the State Board of Education. In fall 2013, New West Charter moved its primary base to 1905 Armacost Avenue as the culmination of its long-term expansion plan. In Spring 2019, we reestablished tenancy at the Pico campus for our 6th and 7th grades only. At that same time, NWC+ established permanent residency at the Armacost campus.
---
Mission
The mission of New West Charter is to provide an academically-rigorous, highly-individualized education for 21st-century students in grades 6 – 12.
In decades to come, personal success will require increasingly high levels of competency, independence and collaboration in an ever-changing, progressively complex society, whether individuals choose to manage their own businesses, work in public or private organizations, or raise families whose children will face the same challenges. In that context, New West produces extremely capable students by creating a learning environment that promotes academic excellence, strong character development, self-reliance and the tools of productive engagement — the antecedents for success in college preparatory high school programs.
Our school fosters our students' intellectual and emotional maturity, and simultaneously inspires and challenges each student to fulfill his/her individual potential as a personal lifelong objective and as contributing members of society.
---
Enrollment
Class of 2019: 89 | Grades 9-12: 458 (current total)
---
Ethnic Composition
African American 7% | Asian 8% | Hispanic 31% | White 54%
---
Geographic Diversity
Students come from 70 zip codes from all over Los Angeles County.
---
Grading Policy
A: 100-90% | B: 89-80% | C: 79-70% | D: 69-60% | F: 60-0%
Transcript represents an un-weighted GPA. New West Charter does not rank its students.
---
Honors Policy
New West offers a range of honors courses at each grade level but does not offer AP courses. (Our AP Policy can be viewed here.) In order for students to be admitted into an honors class they must either:
Pass a subject-specific test or
Receive an A in the previous course in the course sequence
More information about our Honors Program can be found here.
---
School Schedule & Class Format
The school year commences the last week of August and ends the first week of June. It includes:

One-week Thanksgiving break
Two-week winter holiday break
One-week spring break in April
High school classes meet 7:30am - 2:30pm. NWC sustains the goal of a small student body and reduced-sized classes.
For more detailed information, view our Academic Calendar and Bell Schedule.
---
Course Offerings & Graduation Requirements
The curriculum's strong foundation in reading and language arts, mathematics, science, and history and social science, is supplemented by a multitude of enrichment opportunities in world languages, visual and performing arts, physical education and health, and information technology. A robust program of community service and extracurricular activities is designed to have maximum synergy with the academic program.
---
English:
Four years
English 9
English 9 Honors
World Literature
World Literature Honors
English 11
American Literature
American Literature Honors
English 12
British Literature/College Writing
Honors British Literature
---
Science:
Three years
Biology
Biology Honors
Chemistry
Chemistry Honors
Physics
Physics Honors
Environmental Science
Environmental Science Honors
Oceanography
---
Social Science:
Three years
Modern World History
Modern World History Honors
US History
US History Honors
Government/Economics
Government/Economics Honors
---
Math:
Three years
Algebra I
Geometry
Geometry Honors
Algebra II
Algebra II Honors
Trig/Pre-Calc
Trig/Pre-Calc Honors
Calculus AB Honors
Calculus BC Honors
Probability & Statistics
Probability & Statistics Honors
---
Foreign Language:
Two years
Spanish 1
Spanish 2
Spanish 3
Spanish 4 Honors
Latin 1
Latin 2
Latin 3
Latin 4
---
Visual / Performing Arts:
One year
Studio Art 1
Studio Art 2
Advanced Painting
Dance 1
Dance 2
Dance 3
Dance Team
NW Ensemble
Guitar & Rock Ensemble
Concert Choir
---
Electives:
Three years
Health
Physical Education
NW Sports Teams
Creative Writing
Mythology
Computer Science
Speech and Debate
Psychology
The New West High School Course Catalog will be available soon. For more detailed information, view our page on Graduation Requirements.
---
Test Scores / College Admissions
All students have the opportunity to take PSAT, SAT, and ACT.
---