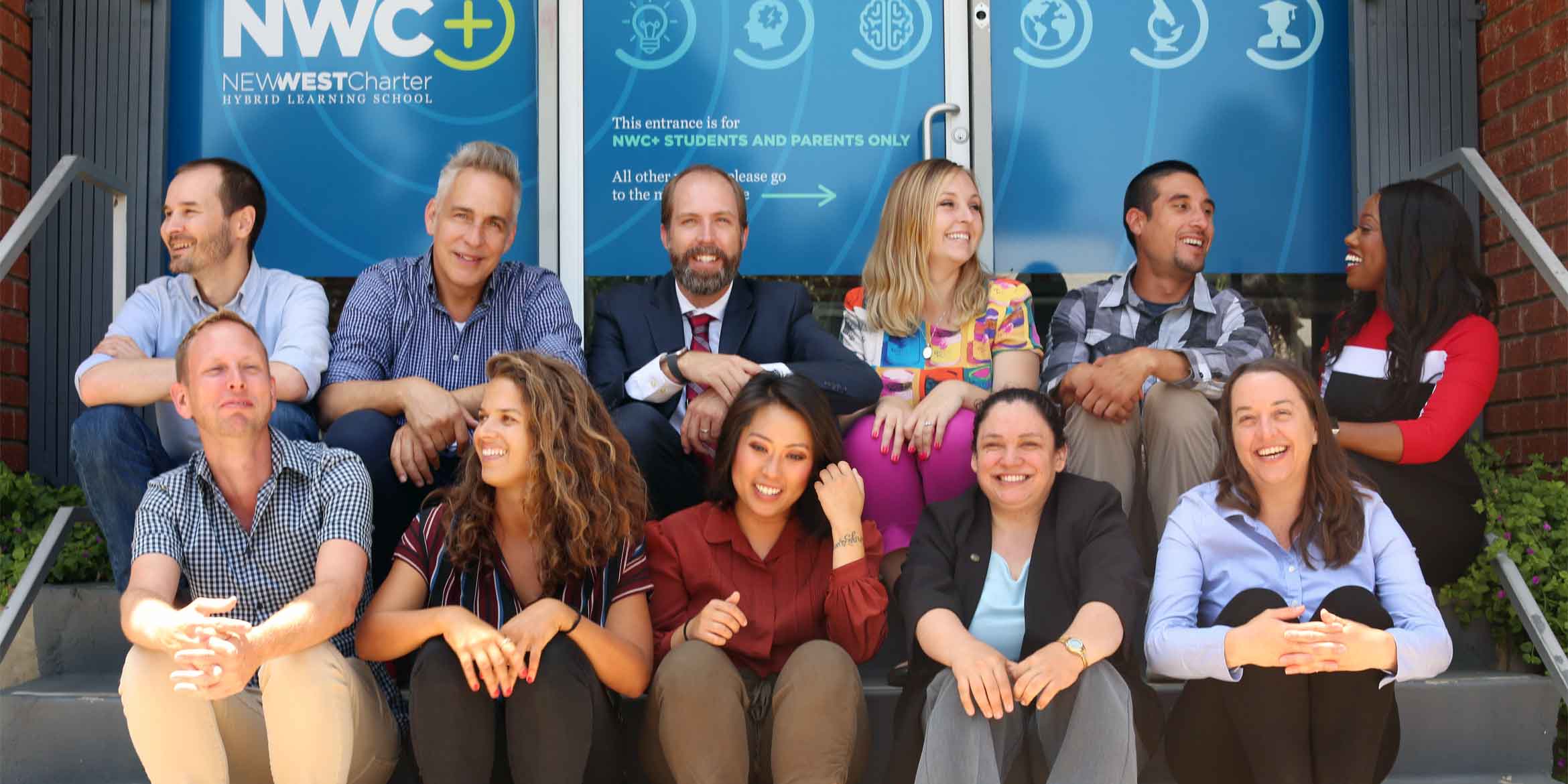 ---
Having spent over a decade in public education, Brian Straka has been everything from an American and World history teacher, the costumed Eagle mascot, a domestic and international school trip leader, a high school Vice-Principal, the IT guy, a parking lot attendant, a Civil War reenactor, the annoyingly-loud varsity basketball announcer, an improv coach, a school kickball champion, an Ellis Island Immigration Office, and a student psychologist, he is most excited about his new role as the Director of Development for NWC+.
NWC+ is set to something truly unique and a great alternative for many types of students. NWC+ is a new idea and approach to education. Our high school combines flexibility and power of online learning with engaging on-campus learning seminars brought to life by experienced faculty. Come see what NWC+ is all about!
---
---
I am very excited to start my first year at NWC+. I grew up in Los Angeles and pursued my love of the ocean by studying marine science at the University of Washington. I then spent three years teaching marine biology on Catalina Island to middle and high school students. Most recently, I earned master's degrees in Environmental Science and Education at UC Santa Barbara and taught in the Santa Barbara Unified School District. Outside of the classroom, I love to be in the ocean, especially on SCUBA. I also love to travel and try new foods.
I hope to bring to NWC+ my love of science and the natural world. I want my students to practice thinking critically and understand how science can be applied to solving problems in the world around us. I look forward to the first year of NWC+ and finding ways to support students in pursuing their passions.
---
---
Mr. De La Garza has a Bachelor's degree in Modern Literature from University of California Santa Cruz and is finishing a Master of Fine Arts degree in Creative Writing with National University. He is an avid reader and writer of multiple genres. He is an ardent snowboarder, tennis lover and Magic: The Gathering aficionado.
---
---
My name is Ms. Nguyen, and I am the new 2019-2020 History teacher for the NWC+ program. I will be teaching 9th Grade Geography, 10th Grade World History, and 11th Grade U.S. History.
I am an all-around SoCal girl, and I can't imagine living anywhere else in the world! I was raised near Redlands, CA (which is on the way to Big Bear Mountain) but I have lived in various locations in Orange County and the Inland Empire. My family is scattered across the globe, including England, Germany, Colorado, Texas, and Vietnam, so when I get a chance, I am on a plane, bus, or train to visit friends and family. I like to see history in its live-action form, and the best way to learn is to get to the source of it all!
My educational journey is a bit puzzling. I graduated UC Riverside with Business Administration, B.S. with a concentration in Marketing. Although I had enough credits for a History minor, I opted out assuming that my professional journey was going to be corporate America. Lo and behold, I hated being in a cubicle crunching numbers and decided to chase after my passion in the social sciences instead. I was a substitute teacher for several school districts in Orange County and the Inland Empire and tutored with various companies to gain more experience. I attended USC Rossier's graduate program and completed my Masters in Teaching with credentials in Social Studies and Special Education Mild/Moderate.
This will be my first official year as a teacher, and I can't wait to see how the school year will turn out!
---
---
Mr. Day is a 21st-century Renaissance Man who builds learning communities that unify and enrich society. He has taught various subjects including Math, English, Music, Film & Radio in high schools and middle schools in the L.A. area for the last 14 years. He currently teaches Film and Yearbook at NWC and is a Math teacher in the NWC+ program.
His classes have been described as 'adventures in self-discovery' as he uses his varied talents in different ways to make learning both interesting and fun.
When he's not teaching, Mr. Day is a dad, film composer, sound man and recording artist who has performed the Sarod (a nineteen stringed lute-like Indian Classical music instrument) in over 30 countries worldwide. His achievements include winning a scholarship to study music in India, founding an award-winning high school radio station, directing & performing in a show at the United Nations Headquarters in NYC, and winning a Global Peace Award from the Global Peace Foundation.
Favorite Question: Who am I?
Favorite song lyric:
'Oz never did give nothing to the Tin Man that he didn't already know' - America
Favorite Movie Quotes:
'What you know you can't explain but you can feel it' (The Matrix)
'May the force be with you' (Star Wars)
---
---
I graduated from University of Georgia with a B.S. in physics and astronomy. After college I moved to Los Angeles and got credentialed to teach high school physics and chemistry. I've been teaching physics, chemistry, and computer programming in California for the last 10 years. Before joining New West, I was both the dean of students and chemistry teacher at SLO Classical Academy.
I nerd out on: books, hiking, soccer, science, computer programming.
---
---
I am in my 19th year of teaching mathematics and my 10th year at New West Charter. I graduated from UCLA with a Bachelor's degree in Cultural Anthropology and I also have a Master's degree in Education with a focus on curriculum, instruction, and assessment. I have taught a wide range of mathematics classes including Pre-Algebra, Algebra 1, Geometry, Algebra 2, Trigonometry/Pre-calculus, Calculus and Probability and Statistics. This year I am excited be teaching calculus AB, and probability and statistics. In addition, I will be teaching trigonometry/pre-calculus for the NWC+ program.
When not teaching mathematics, I serve as an advisor to the Model United Nations clubs at New West Charter.
For the 2019-20120 school year, I am continuing to serve as the Mathematics Department chair and hope to support the department in developing and implementing engaging and rigorous curriculum and instruction at all levels. I love the constant challenge of always growing and learning as an educator and I hope my passion for teaching positively impacts the wonderful New West Charter community.
---
---
Mrs. Martner first learned Spanish from her family as a child and then continued studying it formally both in high school and later as CSU Long Beach. One of her favorite aspects of teaching is watching students achieve their goals. Outside of teaching she loves music and reading . She has sung in choirs since elementary school and even had the opportunity to sing at Carnegie Hall with her choir. In addition, she sometimes sings at special events such as weddings. As far as reading goes, her favorite genres and fantasy and historical fiction.
---
---
Joseph Cooper is a native of Southern California. His primary instrument is piano and his secondary is French horn, though he has performed on nearly every instrument in numerous ensembles.
Mr. Cooper earned his Bachelor of Arts in Music at Oklahoma State University with a minor in Philosophy. He then went on to complete his Master's degree at Columbia College Chicago where he earned a Master of Fine Arts in Music Composition for the Screen.
Mr. Cooper has worked as a designer and choreographer for several marching bands, color guards, winter guards, and drum and bugle corps in Oklahoma, Illinois, and Washington. Mr. Cooper also works as a freelance composer for film and television as well as for various chamber ensembles, concert bands, marching bands, and jazz ensembles.
In April 2016, during his first year at New West, he was awarded the Adjudicators Award at the WorldStrides Heritage Festival in Anaheim as most outstanding director.
---
---
I was born and raised in Long Beach, California, and have dedicated my life to helping students improve their physical fitness through dance and physical education. I received my M.A. in Physical Education from Arizona State University in 2011; and my B.A. in Dance & Theater from California State University, Los Angeles in 2006.
I have over 10 years of teaching experience at the high school level; as well as professional industry experience choreographing concert tours for artists like Destiny's Child, Usher, and Brandy. I also have extensive experience teaching children of all ages and am regularly a guest Master Instructor and Choreographer at High Schools in the Los Angeles County and the state of Arizona.
My experience teaching at the high school level includes directing productions, choreographing dances for productions, choreography for dance team competitions, and teaching the fundamentals of Dance in a variety of styles (Jazz, Modern, Hip Hop, Ballet, Contemporary, African).
This is my 8th year teaching dance at New West Charter, and I look forward to an amazing 2019-2020 school year.
---
---
Hello everyone! My name is Mrs. Schleicher (SHH-LIKE-ER). I am thrilled to be joining the high school and middle school teams for the 2018-2019 school year. I am so grateful to be part of such a wonderful school community. I believe that every individual can be an artist because it is about growing and developing skills.
I grew up in northern California and have always had a passion for teaching. I earned my undergraduate degree in Animation & Illustration from San Jose State, my multicultural teaching credential from Sacramento State, and received my Master's in Secondary Education from Cal State Fullerton.
I love spending time with my friends and family. Outside of the classroom, I enjoy adventuring, hiking, scuba diving, and continuing my professional art career.
This school year I will be teaching Beginning Art and Advanced Art for the high school level, and one 8th grade art class. I am also excited to bring more art mediums and opportunities to our school and to work with such a strong Visual and Performing Arts team. I am really looking forward to working together with our kids to build a strong, supportive, and fun student community.
---