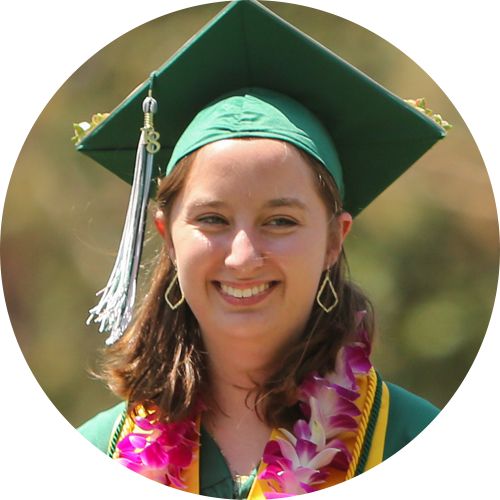 Rowan Barton
Class of 2018 Salutatorian
---
Thank you so much for the kind introduction.
First of all, I just want to say how proud everyone should be. I never thought we'd get to this point, but for once we are all, actually, in uniform.
To be serious, it is a major accomplishment to walk across this stage and receive a diploma from New West Charter. I am so incredibly honored and humbled to represent this class as salutatorian.
When I was approached about writing a salutatorian speech a few months ago, I said "Sure, I would love to," but what I was actually thinking was "What is a salutatorian and what kind of speech do they make?" So, I did what any teenager would do and turned to Urban Dictionary. Urban Dictionary defines Salutatorian as, "The person who just missed being valedictorian by a few GPA points. A very miserable person indeed. 2nd place is just the first loser."
But no one here is leaving a loser. We are all leaving as high school graduates who have drive, curiosity, and passion.
Passion is what makes me proudest to be a part of the class of 2018. Although we might not show it in school spirit, this class is one of the most passionate groups of people I have ever met. There are artists, poets, linguists, musicians, martial artists, writers, dancers, backpackers, surfers. The list goes on and on. Every single one of us has something that we are passionate about. The only difference between me and all of you is that I have two triplet brothers that I have to be better than. So, class of 2018, thank you for sharing your passion.
My earliest memory of New West is walking down the halls anxiously on my first day of middle school, looking for my next class. I guess I was a little too preoccupied, because I tripped and fell down the stairs in front of all of the 8th graders. Pause I remember looking up and feeling overwhelmed and embarrassed. But then, one of the 8th graders stopped and asked me if I was okay. She helped me pick up all of my stuff and walked me to my next class. This moment epitomizes what it means to be a New West student. As many of us have found out over the years, New West's small size is both a blessing and a curse, but one thing that is assured is that — when you are down, there will always be someone there to pick you back up, whether it's a teacher, a friend, or a complete stranger.
It also assured that someone else was always in your business. But this wasn't always a bad thing. At New West, it creates a unique school atmosphere. It fostered a sense of friendly competition, which has pushed everyone in our class to work harder and achieve more. It gave us a sense of comradery that brought us together while tackling Mrs. Everett's infamous "quiz/discussions" or having to relearn how to write a complete sentence for Mr. Estanislao. Today, it brings us a sense of family as we move on from this stage of our lives together.
This family includes all of the administrators, teachers, staff, and parents who have guided us through the formidable journey that is high school.
None of us would be standing here, graduating from New West today, if it weren't for Dr. Weir. When most of us started at New West, having a high school was a far-fetched dream. There hadn't been a new high school in Los Angeles for decades. Dr. Weir's unwavering ambition and perseverance made this dream a reality.
Dr. Barnett's compassion and open door cultivated the warm, inviting energy that surges through New West. Throughout our years here, she has been a role model and someone who you can always go to if you ever need anything.
Mr. Herrera is the administrator that has really been with us every step of the way throughout this journey. In eighth grade, he was the passionate teacher who taught us how to write a basic five paragraph essay. Two years ago, he took on the role of vice principal at a developing high school, and has worked tirelessly ever since to overcome all of the challenges that have been thrown in his path, in order to make sure that each one of us could get the most possible out of high school. Go Dodgers!
Thank you to all of the amazing teachers who have pushed us out of our comfort zones and prepared us for the next stages in our lives. Thank you for teaching us that school is not about the grade that we earn, but about the knowledge, responsibility, and passion that we acquire. I'd like to take a moment to have an enthusiastic round of applause for our teachers.
Finally, thank you to all parents, guardians, and loved ones who have supported us for the last four years. Thank you for volunteering your time, in the library and at recess, driving us back and forth from school, and so much more. Thank you for being here today to share your love and support for the class of 2018. Class of 2018, let's take this time to please stand up, turn around, find your loved ones, and give them a wave or blow them a kiss to thank them.
This ceremony is about our class moving on from this stage of our lives, but we couldn't have gotten to this point without everyone here today. You all share a role in the achievement of all of the students, so this ceremony is as much about you as it is us. So, cry with us, laugh with us, and smile with as we celebrate our final hours as New West students.
Rowan Barton
Class of 2018 Salutatorian
---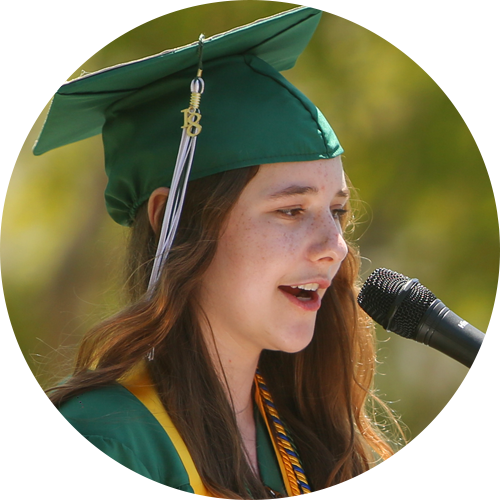 Rachel Pekelney
Class of 2018 Valedictorian
---
Good afternoon. On behalf of the Class of 2018, I'd like to welcome everyone here today. I am truly honored to stand before you and deliver this address.
To the wonderful administrators, dedicated teachers, and loving family members who are with us today, thank you. In times of stress and uncertainty, you have provided us with unwavering support, thoughtful advice, hugs, and cookies. Your help has made this day possible, and for that, I want to express my sincerest gratitude.
To my tired and happy fellow classmates who often felt like this day would remain indefinitely on the horizon: wow, we made it. It feels a bit surreal standing here on the brink of entering life after high school. The years ahead of us are bound to be filled with firsts – first time living away from home, first real job, first parking ticket (although I'm sure some of us have already passed that milestone).
When I think of all the first times awaiting us, I can't help but remember my first day of New West as an anxious 6th grader. When I stepped foot onto our Pico campus, I marvelled at the lockers and mused at the Plan B billboard overlooking the yard. I noticed all the girls with feathers in their hair – and to my retroactive embarrassment at following 2011 trends, I too had a feather in my hair.
Then came the first day of high school. I was concerned that staying at New West for high school would be too much like middle school, but even though most of us knew each other and the campus was familiar, it still felt like we were entering uncharted waters. When we were freshmen, there wasn't a senior class yet. The teachers were new, the neighbors still weren't too happy about us being there, and we started a bunch of clubs we didn't yet know how to lead. It wasn't hard to recognize that New West was unique – I mean, what other public school in LA is next to a cryobank, gentleman's club, and LA Fitness? The high school felt like a grand experiment, and it still is. Every year there are changes, and every year New West gets better.
It is this newness, this ability to progress, that brings me to the message I would like to share with my classmates today. Each one of us has the potential to make change in the world around us, and we can start right now. You don't need me to tell you all that we are living in a unique time for our country, especially for us as young adults. In the past few months, we have seen high school kids claim their place in the national debate on gun violence by organizing the March for Our Lives, one of the largest protests in U.S. history. And as 18 or soon-to-be 18 year-olds, many of us will get to vote for the first time in the November midterm election. Some of us have already voted for the first time earlier this week in the primary. This is a responsibility that we can't take lightly.
It requires a lot of courage to publicly express your beliefs and stand by them through a hurricane of controversy, and that comes with risk. It's risky because you are bound to face criticism and even animosity from those who seek to shut you down. And there's the looming possibility of failure – that all your efforts won't be enough to produce the change you desire.
These risks are bound to be factors in decisions we make throughout our lives. Teenagers are notorious risk-takers, and as New West students, we're all acquainted with taking chances – and I'm not talking about trying to sneakily use your phone in class. We all took a chance by enrolling in New West's untested high school. None of us knew if the school was going to be successful, or if we could individually succeed as New West students. But standing here today and seeing us all clad in our graduation robes of that questionable green color, I can say with confidence that this risk paid off.
Not all risks will have the hoped-for outcome, but that doesn't mean you shouldn't take them. At every turn along the way, take the chance of putting yourself out there. Get out and vote, participate in a protest, volunteer for a cause you care about. And yes, expressing your opinions is risky. It's scary to join the fray, especially when there are a lot of people telling you that you're wrong or too young to know what you're talking about, but we're no strangers to debates. In Mr. Nevins' class we rarely made it farther than 2 minutes into CNN's student news before discussing gun control or the wage gap. We've argued about the possibility of World War III in Mr. E's class and about the uniform policy with Mr. Herrera. And some of our arguments certainly were contentious (thank you Roy and Kent), but that just shows that we are opinionated, and that we're thinking about our world.
As we enter college and the workforce, heated debates will be going on all around us. There will be talk about politics, poverty, and the patriarchy, and although it may seem easier to avoid the subject or stay out of it entirely, take the risk of throwing your voice into the discussion. If your fellow student or coworker says something you disagree with, share your point of view and argue for what you believe is right. Do not shrink from controversy; embrace it, because it is the source of change and growth.
Right now, young people possess an elevated awareness and momentum for political activism, and preserving that will be the greatest challenge ahead of us. Many people have roasted the Class of 2018 for being perhaps a little too laid back, but I know that deep down, we all care about one thing or another, whether it's the environment, our friends, or playing Fortnite. It's true that everyone gets lazy or loses interest sometimes, but we can't afford to be passive or tune out to the world around us. Young, fresh eyes are not always a substitute for wisdom and experience, but sometimes those fresh eyes bring much needed perspective.
Last year in Mrs. Everett's class, we read countless powerful works of writing, but one of the things that stuck with me was a line from a poem by T.S. Eliot. The poem reads, "Do I dare?...Do I dare disturb the universe?" This simple question reminds me not to sit idly by in a world that could use a little shaking up. Whatever challenges you face, if you are ever paralyzed by doubt or afraid to take a chance, ask yourself: Do you dare?
Class of 2018, the universe awaits.
Rachel Pekelney
Class of 2018 Valedictorian
---